Youtube Embedded HTML5 Player Maker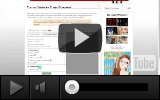 Want to put a youtube video or music on your homepage or product page? With this you can create a code to show your player in different styles: just regular without controls, invisible, video as page background, button only, button with volume and button with volume and video name. You can even create your own custom button images for it!
11/Nov/2020: We have updated the code that this generator is creating in order to work around the coding limitations set on IMVU homepages recently. So if you notice your button, invisible or video as background players have stopped working, make sure to create their codes again.
Featured Products
---
---
---