Youtube Embedded HTML5 Player Maker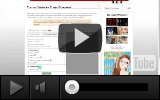 Want to put a youtube video or music on your homepage or product page? With this you can create a code to show your player in different styles: just regular without controls, invisible, video as page background, button only, button with volume and button with volume and video name. You can even create your own custom button images for it!
If you are having problems with the
Autoplay or the Invisible player
type while on Chrome browser, bear in mind this browser is limiting the ability of autoplaying videos under some circumstances. In these cases we recommend you to use any of the button player types or control-less in order to give the visitors the option to play the video instead.
Read more